In honor of Dr. Richard (Rick) Thurmer R.I.P
A few years ago, before face masks, social distancing, and stockpiling toilet papers… Do you remember those days? I was on a dance team. I grew up dancing and always my biggest joy was to be a part of a team. The beauty of a dance team is the social aspects. Throughout the years these dance communities brought amazing people into my life (like my hubby :-)) and many fun adventures and festivals.
A few years after we moved to Seattle, I joined the "USA Dance-Seattle Chapter" a local ballroom formation team, and became a really good friend with Alma (Allie). Allie opened her heart and home to my family. We celebrated thanksgiving together, New years, tea times, and much much more. Allie and her husband Rick and son Derek (they have 2 sons living in other states) became our family away from home. Rick was a mountaineer (and a physician) who summited the highest peaks on all seven continents! We loved to hear his inspiring stories about adventures from all over the world. Rick was a truly remarkable human. A terrific husband, father, doctor, and athlete. When I met Allie at the beginning of March for a walk, she told me that Rick was preparing to climb K2 again by pushing his wheelbarrow filled with hand weights up and down their hilly neighborhood. He was a skilled and experienced climber and in very good health. Two weeks later I received a devastating text from Allie that Rick died in a climbing accident on Dragontail Peak (about two hours from home) while solo training. It appeared he had fallen several hundred feet, no words to describe such a big loss. Rick had a life full of breathtaking "summits", and I am thankful that we had the opportunity to know him. I thought about what would be appropriate to bring to the family, and Challah felt like the right thing. There is something just incredibly comforting about fresh-baked Challah, the addition of raisins and cinnamon adds a mild sweetness. We'll miss you Rick…until we meet again on a higher summit…
Here you can read more about Rick. 
Ingredients Overview:
Before you start baking using this Raisin and Cinnamon Challah Recipe, measure and prepare your ingredients so the cooking process will go smoothly and easily.
All-purpose flour: I use all-purpose flour, but you could use bread flour or a combination of bread and all-purpose. Remember that bread flour has a higher protein content and will give your bread more structure. I strongly recommend sifting the flour; it will result in a more delicate dough with a more significant volume.
Water: It's best to use water between 100°F and 110°F (38°C- 43°C); it helps to activate the yeast. If you don't have a thermometer, don't overthink the water temperature. You want the water warm. Not hot. Not cold. Not freezing. Just warm. The proportion of water in bread dough corresponds to how hydrated, or wet, it is.
Yeast (active dry yeast ): Active dry yeast needs to be bloomed in liquid before being used to make dough. However, it is not necessary to bloom newly purchased yeast. Instead, they can be added directly to the dry ingredients.
It is not necessary to bloom newly purchased yeast. Instead, they can be added directly to the dry ingredients.
Oil: Canola, vegetable, or Avocado oil can also work here.
I Don't Have a Mixer. Can I Knead Challah by Hand?
Absolutely!
There is no reason not to make Challah because you don't have a mixer. Kneading by hand will yield wonderful results; it will just take a little more time. The advantage of using a mixer is saving (human) energy and multitasking while the mixer works. For making Challah, we will be using the hook attachment.
Pro Tips
Weigh all your ingredients and get everything in order so you can follow the recipe exactly.
Mixing the dough: Scrap the sides of the bowl occasionally with a rubber spatula to ensure all ingredients are incorporated.
How much water to add?
Water: Because each flour is different, stored differently, and has different absorption capacities, the amount of liquid will almost always change. Even if you always use the same flour, it may be that the flour will absorb more liquid on different days. So, start with half a cup of water and add as needed gradually. The dough should be very soft but not sticky. Dough lacking in liquid will be stiffer and less comfortable to work with.
The first rise: About an hour and a half or until the dough doubles. But that figure can also change radically, especially if it's particularly cold weather, which will then require a few hours for the dough to increase in size. In summer, it can be much shorter.
Shaping: It is essential to braid the loaf slightly loosely so the dough can rise.
Craving More Recipes?
All opinions are always 100% honest and my own. Links are affiliate links. If you click a link and buy something, I receive a commission for the sale. It doesn't cost you anything extra and you are free to use the link or not as you choose. If you do use my links, I appreciate your support!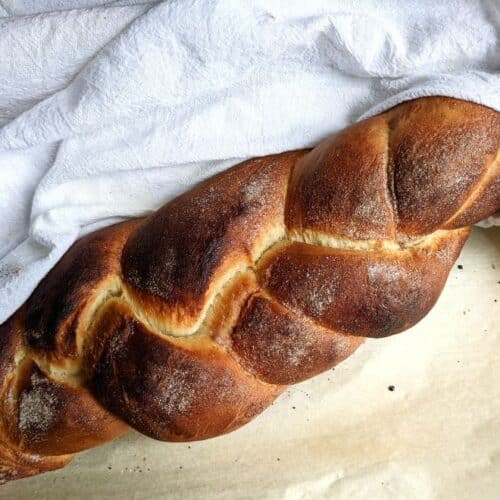 Cinnamon Raisin Challah
This Homemade Cinnamon Raisin Challah is so light, fluffy and sweet! A delicious recipe that is a great accompaniment to any holiday meal.
Kosher, Pareve
Print
Pin
Rate
Ingredients
For the Challah
3 1/2

cups (500 grams)

all-purpose flour+ a little more for dusting

I strongly recommend sifting the flour; it will result in a more delicate dough with a more significant volume.

2

tablespoons (20 grams)

granulated sugar

1

tablespoon (10 grams)

active dry yeast

1/4

cup (60 ml)

canola oil + a little more for greasing

About 1 1/4

cups (300ml)

lukewarm water

1/2

teaspoon

salt
For the filling:
1

oz (30 grams)

raisins (about 2 tablespoons)
For the topping:
1

any size

egg

1

tablespoon (10 grams)

light brown sugar

1/4

teaspoon

cinnamon
Instructions
The Challah:
In the bowl of a standing mixer, put flour, sugar, and yeast (or in a large mixing bowl if kneading by hand) and mix/stir for one minute.

Let the mixer work while slowly adding the oil.

Gradually add water (**read my tip about water below) and mix to form the dough.

Add the salt and knead for 10-15 minutes (It helps the gluten form and the dough to be elastic with better structure).

Grease the dough with a little bit of oil, cover with a kitchen towel and let the dough rise until doubled (place the bowl somewhere warm).

Once the dough is doubled in size- it's time to shape it!
Shaping the dough:
Divide the dough into three equal portions.

Take one of the portions and roll it out with a rolling pin until it is flat, about 1/4 inch (1/2 cm) thick.

Sprinkle a bit of raisin down the center of each piece, then fold the dough over and roll it into about 15-inch rope, pinch the ends tightly. Repeat with the remaining dough pieces.

Gather the ropes and squeeze them together at the very top. Braid the ropes together like braiding hair and squeeze the ends together when complete.

Line a baking sheet with parchment paper and place the Challah on it.

Place the pan somewhere warm, cover with a towel, and let it rise until puffed, about an hour.

Heat the oven to 400°F/200°C. When ready to bake, whisk the egg with a tablespoon of water and brush it all over the Challah.

Sprinkle sugar and cinnamon.

Slide the Challah on its baking sheet into the oven and bake for 25 to 30 minutes. The Challah is done when it is a rich golden brown and registers 190°F/90°C in the very middle with an instant-read thermometer.

Let the Challah cool on a cooling rack. Enjoy!