Mezze, meaning 'small dishes' in Arabic, is a culinary tradition that celebrates the art of sharing. These appetizers, salads (like my Israeli Carrot Salad), and dips are a celebration of diverse flavors, textures, and traditions that come together.
From silky hummus to zesty tabbouleh to crunchy falafel, these recipes invite you to savor the essence of a region. So, whether you're hosting a gathering or simply seeking to elevate your everyday meals, give this Israeli Carrot Salad a try.
Why You'll Love This Salad?
Quick and easy
Sweet and spicy
Fresh and vibrant
Customizable
Pro-Tips
Choose fresh carrots: Start with fresh, firm carrots. They should be vibrant in color and without any signs of wilting or soft spots.
Uniform slicing: When slicing, aim for uniform pieces to ensure even cooking. This helps maintain consistent texture in the salad.
Balancing spices: Adjust the spices and seasonings to your taste. Don't be afraid to experiment with different spice ratios until you find your perfect balance.
FAQs
How to store Israeli carrot salad?
Israeli carrot salad is best stored in the refrigerator to keep it cool and safe to eat. Place it in an airtight container with a lid. Salad is best enjoyed within 2-3 days of preparation. While it may still be safe to eat beyond this time, the texture and flavor may deteriorate.


How to serve Israeli carrot salad?
Israeli carrot salad can be served cold or at room temperature.
More Recipes You'll Love
All opinions are always 100% honest and my own. Links are affiliate links. If you click a link and buy something, I receive a commission for the sale. It doesn't cost you anything extra and you are free to use the link or not as you choose. If you do use my links, I appreciate your support!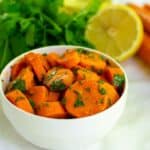 Israeli Carrot Salad
Print
Pin Recipe
Delicious, healthy, and visually appealing dish
Kosher, Pareve
Ingredients
5-6

medium-large

carrots (about 1Lb)

washed, peeled, and cut into thin rounds

4

tablespoons (60 ml)

olive oil

2-4

garlic cloves

minced or crushed

1/2

teaspoon

ground paprika

1/2

teaspoon

ground cumin

1/2

teaspoon

sugar

optional

1/2 teaspoon

cayenne pepper or Harissa

adjust to taste for spiciness

juice from 1/2 a lemon

1/4

cup

fresh cilantro

finely chopped

salt and black pepper to taste
Instructions
Prepare the Carrots:
Peel and cut the carrots into thin rounds.

Place them in a pot and add enough water to cover them. Bring the water to a boil and then reduce the heat to a simmer.

Cook the carrots for 7-10 minutes or until they are slightly tender when pierced with a fork. Drain and let it cool.

Mix olive oil, garlic, paprika, cumin, sugar, and cayenne pepper (optional).

In a medium-sized bowl, combine the cooked carrots with the olive oil mixture, tossing to coat the carrots evenly.

Mix in the lemon juice and chopped cilantro.

Cover the salad and refrigerate for at least 30 minutes to allow the flavors to meld together.

Israeli carrot salad can be served cold or at room temperature
Notes
Feel free to adjust the spice levels and ingredients to suit your taste preferences. This salad is known for its balance of sweet, savory, and spicy flavors, making it a delightful addition to your table.
Tried this recipe? Tag
@mamalivingabroad